All the different Goblins have made it into the game now and are being tested and balanced. All their sounds are done as well – the most extensive work for any creature yet. You'll find a new preview in this update. In the meantime, we also changed how character backgrounds work and gave all helmet visuals a makeover.
Character Backgrounds
Hiring new mercenaries is a core part of the gameplay of Battle Brothers and we put a lot of effort into making characters feel as unique and memorable as possible. That's why we keep adding new faces, hairstyles, items and background stories all the time. The background of a character, essentially what they did before joining up with you to become a mercenary, is an especially defining factor of who they are today. It determines their starting stats, their traits and factors into events involving the character.
However, there are two issues with how character backgrounds work currently. The first issue is that because characters have randomized stats within a certain range to reflect different talents and dispositions, it's sometimes hard to predict their stats based on their background. A hunter is someone you'd want to hire when looking for a ranged specialist – yet with an unlucky roll you can end up with a guy quite bad with ranged weapons, despite the Hunter background adding a flat amount of ranged skill. This is understandably frustrating for players that are explicitly looking for a ranged character and have invested quite a bit of crowns.
The second issue is that because backgrounds change a character's stats by a fixed amount, it makes things too predictable on other occasions. A Hedge Knight is always better than a Farmhand overall. There is no single Farmhand that can match a Hedge Knight in strength, anywhere. This is a problem because it quickly divides backgrounds into those considered must-have, and those considered bad and only to be hired at the start of the game, outside of roleplaying reasons. We want to have some diversity in the player's rosters and not just two or three different backgrounds with the rest essentially skipped.
To address these points, we've changed how character stats are determined. Instead of rolling stats in the same range for all characters and then having the background add a flat amount on top, backgrounds now have their very own min and max values when rolling for each stat. What does that mean? Well, you can find characters skilled in ranged combat with all kinds of backgrounds, some even more skilled than the Hunter you've just hired – but the Hunter is guaranteed to know how to use a bow and will always come with a good level of ranged skill now. And while with a Hedge Knight you know you'll be getting a beast of man, there's always the chance that you'll find that random exceptional Farmhand that is even stronger and more physically fit – the Hedge Knight is just guaranteed to be at a good level.
Founding Members
When starting a new campaign you enter the world with 3 founding members in your mercenary company. Those founding members previously came with a background chosen at random, with only the very weakest and the strongest backgrounds excluded, which made for some interesting scenarios at times but also contributed to the very uneven difficulty in the early game.
You may have noticed before that the introductory screen explains you starting a mercenary company with three companions who worked as sellswords before and fought alongside you personally in the shieldwall. It never made much sense that you'd then end up with a fisherman and a tailor who didn't know the first thing about fighting, so we've changed that. The three Battle Brothers you start with now come with a unique Companion background that can't be found anywhere else. They have some respectable fighting experience and some fighting gear that has already seen battle, as well as background stories that tell of your exploits and how you originally met. They're competent fighters and should make the early game a bit less bumpy, but they're not necessarily on the level of some of the other characters you can hire later on in the game. Where to take it from here, and whom to hire next, is your decision to make.
Goblins
And here we are with another preview of the upcoming Goblins. This time we're showing the Goblin Skirmisher, their melee infantry, with a couple of different deadly tools available to them.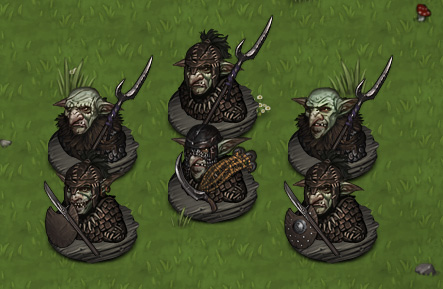 We're currently busy testing them in the game, balancing their difficulty and adjusting their behavior to make for some unique challenges very different from other opponents already in the game. All their sounds have been done this week as well – with an actual sound budget now we're able to give Goblins voices that really underline their mischievous character.
Visual Makeover Continued
Continuing with our visual makeover, Paul has had his crosshairs on helmets this week. Those are now in line with the new body armors and also boat a grittier and more detailed look.