Battle Brothers, as you know, is a game about managing a mercenary company. This week we're talking about a new aspect to manage both on the battlefield and when travelling the world: the upcoming injury mechanics. There's two types of injuries – temporary and permanent ones – and they both serve a different purpose in enriching the game. Let's delve in!
Temporary Injuries
Temporary injuries add complexity to both combat and worldmap gameplay. They are effectively status effects that represent serious injury that diminish a character's ability to fight effectively, different from lighter wounds by loss of hitpoints only. Depending on where a character is injured, they may suffer from various disabilities; for example, an injured leg may impede movement, whereas an injured arm may lower offensive capabilities, and a swollen eye may lower vision.

In combat, injuries are inflicted if an attack surpasses a certain threshold of hitpoint damage relative to the maximum hitpoints of the character hit. The higher the maximum hitpoints of a character, the more difficult it is to inflict injury upon them, and the more damage inflicted, the more serious the potential injury may be. This applies to both your Battle Brothers and your enemies – it's easier to inflict serious injury to fragile Goblins than sturdy Orcs, or to those of your men that have a lot of hitpoints. A select few enemies may also be immune to some or all types of injuries. The type of injury inflicted depends on the weapon used, with blunt weapons inflicting different injuries from cutting or piercing ones. With the new injury mechanics, combatants will no longer be able to fight to their fullest at even just a single hitpoint left, but will now progressively get weaker as you beat on them.
Outside of combat, temporary injuries take a certain amount of time to heal – how long exactly depends on the specific injury, with a broken leg taking quite a bit longer to recover from than a light concussion. While you can send your injured right back into combat, it's a good idea to make use of the reserve roster so that they can recover and don't have to limp onto the battlefield. Injured characters have icons shown right next to them in the roster view, allowing you to see at a glance who's fit and who may need to sit out a contract. In order to make the best out of the men available to you at any given time, you'll now have to shuffle your roster every now and then, which should help to shake up what could previously become too static a gameplay element once you had assembled a good team.

If you've played Battle Brothers before, you'll be aware of certain events that may end in fists flying amongst your men, particularly with certain party compositions, or combat drills ending in accidents. Consequences were previously limited to a loss of hitpoints very quickly healed by passing time. Now, events can also come with injury as a consequence, like a broken nose as your men beat on each other, which should make for a more serious concern as you weigh your options.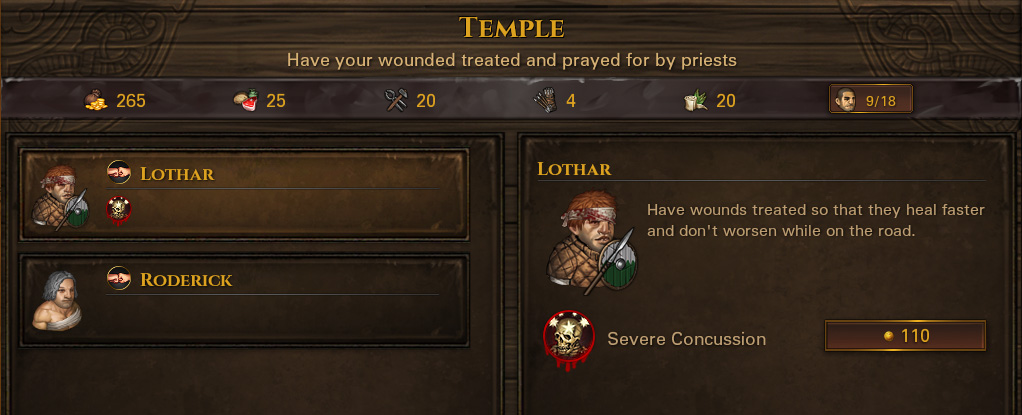 Finally, the upcoming update will also have the temple building serve a function. In temples across the land, devout followers of the gods will pray for and treat the wounds of the pantheon's children as mandated by their faith. Your men will recover faster from injuries expertly treated here, and you don't run the risk of developing gangrene like you do in the field. The bandages shown on your characters are even visibly replaced by clean ones.
Permanent Injuries
Life expectancy can be short for mercenaries. But while permadeath is and will remain an important part of Battle Brothers, not every downed character has to be quite dead. Assuming a character isn't decapitated, has their skull bashed in or suffered a similarly gruesome fate, there's now a chance for them to survive with a permanent injury that will accompany them the rest of their lives.

A character may get lucky and suffer an injury that has only a minor impact on their abilities, such as missing an ear, or they may suffer a more crippling disability, such as missing a whole hand. Permanent injuries all have negative effects, but some may also include positive ones. Brain damage, for example, doesn't make a character any more competent, but it may make them just dumb enough not to realize when it's time to run, effectively lowering their chance to break and flee.
Depending on the injury sustained and the role of the character in your company, a permanent injury may be anything from a small reminder to be more careful next time, to a crippling disability. From a design perspective it is a tool to cushion the impact that losing important characters can have on your campaign. Whether you choose to ultimately replace that character or not, they'll be around for a while longer to help you succeed – especially useful with the optional Ironman mode we'll be introducing next update. Also, of course, missing noses make for distinct characters and contribute to the emergent story of your very own mercenary company.