So far we only talked about the tactical combat part of the game because we focused on developing it first, it is already fully playable and there was a lot to talk about. Now is the time to present the strategic part, also known as the worldmap, which we currently focus on. Everything that follows is heavily work in progress so don't take it as set in stone. If there is anything you'd like to see in the strategic part of the game, let us know in the comments below!
What is the purpose of the worldmap?
When coming up with the basic gamedesign we took a lot of inspiration from classics games like X-Com and Jagged Alliance. Both of these games rely on two interlocking systems: A tactical and a strategic part.
While the tactical part takes place on a really small area where you control individual Battle Brothers and make decisions within a fast paced close combat, the strategic part shows the bigger picture where you have to make long term decisions like where to go, what battles to pick and how to make use of limited resources.
The main purpose of the worldmap is to give context to the tactical battles. It determines your troops, the equipment and skills of your troops, the enemy you fight, the goal or mission of any battle, the terrain, the weather and light conditions and the rewards you get for victories. Also, it gives long term consequences to anything that happens in battle; Brothers gaining experience and skill only matters if they keep those between battles, and Brothers dying has an impact beyond the current battle, for your whole campaign. Whether you win or lose a battle can also impact the worldmap and what future battles will occur. For example, destroying an enemy encampment will have it seize sending raiding parties to nearby villages and estates, increasing local security and stopping the drain of wealth, which in turn increases the quality and amount of available equipment and supplies for local merchants, as well as the rewards that villages can offer you for future tasks. Failing to destroy the encampment could mean that the village will eventually be razed and become unavailable as a place of commerce, safety and recruits.
However, the strategic part isn't just to supplement the tactical one, and certainly not just a filler between tactical encounters. We want it to offer enough depth in gameplay to be interesting in its own right, to offer choice and consequences, and to require formulating strategies in order to succeed at it. In contrast to the tactical part, it is more of a management and strategy game and as such has a different pace to it, offering variety and a different perspective on the game world. Lets go a bit deeper and take a look at the elements that make up the worldmap.
Layout of the world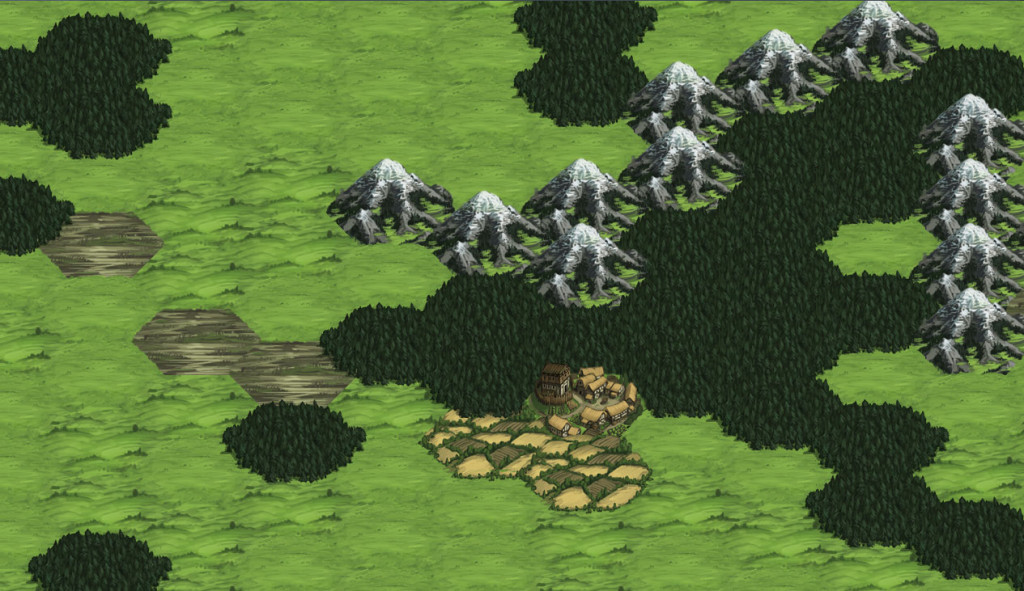 The worldmap in Battle Brothers covers the scope of a single continent with a geography and climate similar to that of your average middle-european country. It is procedurally generated at the start of every new game so that you have a fresh map to play on every time.
We have different types of terrain with which the map is painted according to various rules; for example, mountaineous terrain will often appear in a connected line forming a mountain ridge, and a village will usually be surrounded by farmland. Of course, we also have dark forests, open plains, treacherous swamplands and rivers curling downhill. To learn what a forest actually means in gameplay terms, see the gameplay section below.
In this world we place villages near fertile land and rivers, as well as bigger towns, and guardposts and keeps at positions of strategic importance. Roads connect these beacons of civilization, often snaking around the dark forests but sometimes having no choice but to lead right through them – despite the dangers that might lurk within.
The premise
"You take on the role of a leader of a small mercenary warband that finds itself in a country that has been abandoned by most regular fighting forces due to an oversees war. This vacuum of power leaves the country ripe with opportunity for any man who can wield a sword to earn good coin. But you are not the only power that is taking advantage of this opportunity. There are way bigger forces at work beyond the horizon that threaten to engulf everything in darkness.."
While the worldmap is dotted with a number of minor enemy parties, from independent roaming monsters to bandit encampments, there is also what we refer to as The Greater Evil, which will become increasingly dominant as time goes on. The Greater Evil is one of several possible armies which starts an invasion of the worldmap in an attempt to completely control and/or destroy it. So far, you've only seen some of the Undead army – however we have several more armies planned which differ significantly in how they behave both on the worldmap and in tactical battles. No, this game is not just about fighting the Undead!
General gameplay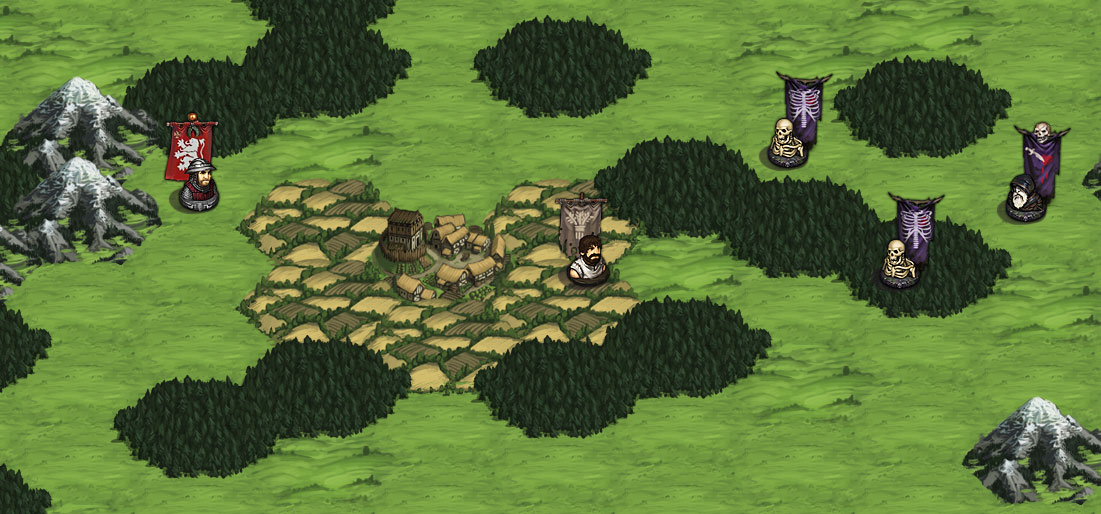 Within the world your band of Battle Brothers is depicted as a figurine with a (customizable!) banner – and so is any other party you can encounter and interact with. All parties move around the map in pauseable real time. If you've played Mount & Blade before you should have a good idea how it'll work.
While the general layout of the world is revealed from the start, most of the world is covered in fog of war except for a circle of vision around your party and also around the major settlements. When traveling across the country you will encounter other parties and locations, some friendly, some hostile. Usually they will be revealed when entering your field of vision, although certain terrain (like forest) can make it more difficult to detect them – and thus offer opportunities for ambushes. As you discover new locations, like long-forgotten ruins, they will remain visible on your map as a point of interest.
With the worldmap we are going in the direction of a "simulation" in a dynamic world instead of a pre-determined sequence of events or scripted quests that just pop up. We want to offer a world that feels open and alive, a world that you, the player, can actually influence. One where you don't feel alone or feel like you're doing all the work by yourself. Therefore, all parties, settlements and factions have their own agenda.
For example, merchants travel on the roads between settlements, but not just for show. As they reach their destination, they increase the local wealth with their trading, which in turn increases the selection of equipment and supplies available, and the rewards that the settlement is able to offer for any tasks. In the same vein, consider an encampment of robbers in the nearby forest. That encampment will send out parties to raid farms, fields, the settlement itself and the merchant caravans travelling the roads. As the village is raided and merchant caravans never reach it, its wealth plummets, its people become poor and can offer the player little. On the other hand, as the bandit raiding parties return home with their spoils, the encampment gains resources and can send out more and bigger raiding parties in the future.
The settlement will likely issue a call for help and offer a reward for helping against constant raids, which the player can follow up on. However, this is not a "quest" in the classical sense, and neither the village nor the robbers exist just for the purpose of this. The player could just as well have found and killed the robbers on his or her travels through the forest by chance, or perhaps the village militia could have fought them off. In this case, the settlement might never have experienced a big loss in lives and wealth, and wouldn't have needed help. Since a wealthy settlement has more to offer the player in terms of trading, equipment and recruiting options, the player has an interest in helping out the people not just because he or she was promised a reward for a specific task.
This is just one example for how we are planning to generate opportunities and gameplay by giving each party or faction their own agenda and their own resources to achieve their goals. Again, we want a dynamic, living world where you stumble across adventure opportunities all the time. On top of that, your actions form the world around you and the balance of power between all the interacting factions that are populating the country.
Worldmap features
Besides traveling the country and kicking monster ass there are a couple of gameplay features that the player has to employ to be successfull.
Troops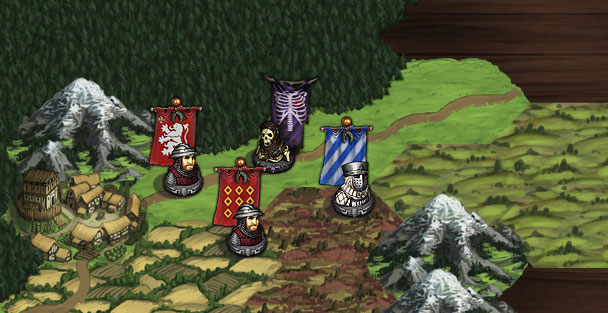 You can hire troops in most friendly settlements for a certain amount of gold. When hiring you do not know the exact character stats of the Battle Brother-to-be, which are randomly determined, although we might give you a rough indication based on character biography. Some recruits even have negative character traits like being tiny or short sighted. Others may be better suited for mercenary work and have traits like being athletic or strong.
The worldmap also allows you to manage all your Battle Brothers. You can rename them, equip them with weapons, armor and accessories. On top of that you can select new skills once they reach a new level. We'll have a whole blog article dedicated to our level and skill system eventually!
Crafting
The worldmap allows you to craft any number of equipment for which you have the recipe and crafting materials available. Recipes for crafting can be found throughout the world, bought in settlements and looted from fallen enemies. Some more exotic recipies are the product of research (see "scholarship" further down).
Crafting materials can be obtained through looting, salvaging old equipment or be bought in settlements. There are various crafting materials, some easy to get like wood or iron, and some rare and only to be acquired by slaying extremely dangerous and powerful enemies.
Followers
Your band of Battle Brothers can also be accompanied by a small number of followers. Each follower will give a strategic advantage for worldmap gameplay and won't be part of the tactical battles. There are various types of followers, each with different advantages. For example, a scout may increase your party's field of vision and increase your movement speed on difficult terrain (like forests). A healer, on the other hand, will increase the recovery speed of your wounded Battle Brothers and will lessen the danger of lasting injuries.
You will meet followers throughout your journeys. Maybe you run into them in a settlement or you free them from an enemy encampment.
Scholarship
Scholarship is the study of dusty tomes and ancient artifacts, best described as the equivalent to "research". If you choose to do so, you'll find a wide array of projects to be studied; there are clues scattered all throughout the land as to the location of legendary and ancient artifacts that could turn the tide in your campaign. Experimenting with exotic ingredients, like leftovers of magical enemies, might yield possible crafting recipies and ultimately equipment which bolster your Battle Brothers.
Further development
This is rough overview on the strategic part of Battle Brothers, and most of the above elements probably deserve a blog article on their own to be explained in detail. Let us know what you think about our plans so far, about your suggestions and what topic you'd like our next article to be about!