This update adds a reimagined version of the 'Escort Caravan' contract to the game. You're now part of the actual caravan and don't have to manually travel alongside it anymore. While the caravan travels, controls are locked from you, but time will pass faster until the destination is reached. The contract doubles as a way to fast-travel around the world and may also give you added safety with the caravan hands and guards in the beginning of the game. Be sure to take ample provisions before you start your journey!
The contract system has seen a general change. Contracts now vary in difficulty and payment as indicated by a rating of between one to three skulls. If you've taken some losses and need to rebuild your company, taking on easier contracts with a one-skull-rating might be a wise decision. On the other hand, if you don't feel challenged enough, take on a contract with a three-skull-rating and get paid handsomely. Note that the skull ratings are rough estimates and don't necessarily mean that a contract has to always be easy or hard for you. In an open world you can always run into roaming enemies, and how you fare against certain opponents will depend heavily on your equipment, leveling and tactics.
Finally, this update also adds our first all-new combat environment: the dry and flat steppe. Here's how it looks in the game.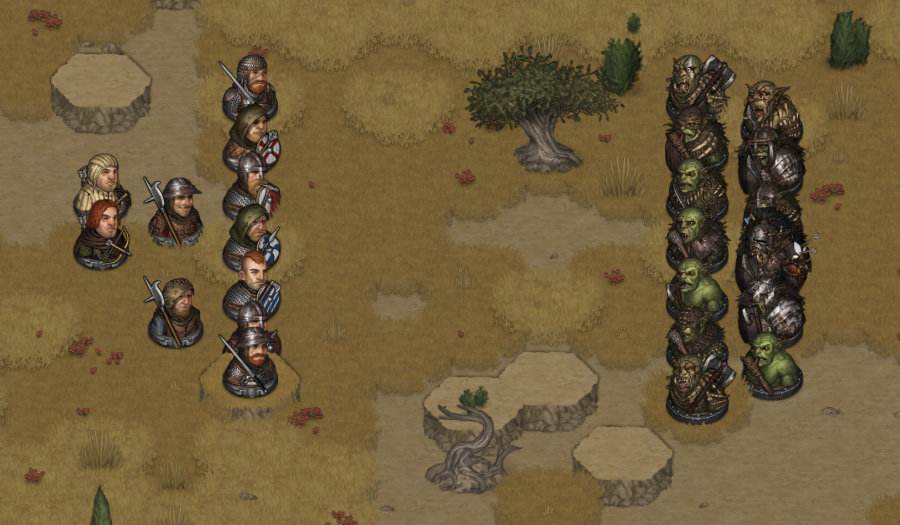 Changelog
Added new 'Escort Caravan' contract.

Added two new events.

Added steppe combat environment.

Added more debug output to logfile in order to help track down some remaining issues.
Changed contracts to vary in difficulty (and payment) as indicated by a rating of between one to three skulls.

Changed larger settlement factions to potentially offer more than one contract at a time.

Changed Orc Line Battle scenario to take place in the steppe.

Changed Riposte appearing as a negative factor in the hitchance breakdown only when the opponent is actually in range to execute a counter-attack.

Changed game to no longer pause when out of focus. Remember to hit Spacebar or Escape to pause on the worldmap before alt-tabbing out!
Fixed potential crash on worldgen.

Fixed destinations for 'Armed Courier' contract not being uncovered on the map in some cases.

Fixed issue with AI of Withered Vampires that prevented them from using the Darkflight skill in some cases.

Fixed issue with AI of Orc Warriors that had them use the Line Breaker skill when they shouldn't.

Fixed armor for helmets displayed as floating point value in some cases.

Fixed wrong effectiveness vs. armor of pitchfork.

Fixed various text errors.