As you might be aware from reading our previous blog posts and watching our gameplay videos, we already have the combat part of Battle Brothers in a playable state. Now we want to put our game to the test and get you to play it and give us feedback. For this reason, we'll release a public Pre-Alpha Combat Demo for you to try out (i.e. get horribily slaughtered by the AI) within the next few weeks. Today, we'll talk a bit about what will be awaiting you exactly.
How far is the development of the tactical combat?
The tactical combat part is already pretty far in development. On the technical side of things, we've had our core game engine running for several months. The game has relatively modest demands on computers running it and should generally also do well on Notebooks and older PCs. Any video card supporting OpenGL 3.0 should be able to run the game – and if it isn't, it's precisely the job of the upcoming demo to bring this to light so that we can fix it.
As one of our advertised features is the procedural generation of maps, it was one of the first things we implemented when we had the groundwork done, and something that will also be present in the upcoming demo. We have all the basic combat mechanics in the game, including character stats of Battle Brothers and enemies, equipment, combat calculations, different height levels, fog of war and a good selection of different skills with which battles are fought. What is missing now most of all is content, balance and fine-tuning. There are also a few more advanced mechanics still missing (e.g. throwing weapons and limited ammo), but none that should get in the way of enjoying the game.
We have a competent AI ready to control enemy characters on the field of battle. Our AI does not cheat – the same restrictions apply to it that apply to you; it has limited sight range and can not see into the fog of war, and you being able to see them does not necessarily mean that they also see you. We decided early on that we wanted to tailor the AI of individual types of enemies to really reflect their capabilities and mind set, which is why you'll find that your enemies will behave differently and not always predictable. The simple-minded Zombies possess a simple-minded AI and will just stumble towards the nearest target with no regard to terrain. Skeletons possess more of a cold intelligence and will attempt to gain a positional advantage, raise their shields in defense as you rain arrows on them and attempt to smash your shields as you raise yours. Necromancers will try to avoid getting to close to your Battle Brothers and try to raise the dead from the backline. Vampires will use their unique skill to try to pick off your men one by one, always trying to stay out of the reach of the bulk of your fighting force. Ultimately, we want the AI to be able to do everything that the player can in an intelligent manner (although, of course, not every type of enemy), but we're not there yet.
The UI of the game is functional and offers helpful tooltips explaining skills, equipment and UI elements. Still, it is work-in-progress. You'll notice that it currently has a very simple look – that is, because it hasn't been skinned yet. Our priority here is to optimize usability first, and we're still shuffling things around and adding new features based on player experience. That includes your experience also – if you have a suggestion on what we should change regarding the UI based on your experience playing the demo, let us know! Only once we're satisfied with how the UI works will we skin it to give it a real non-placeholder look that actively contributes to the atmosphere of the game.
What will be included in the Pre-Alpha Combat Demo?
The combat demo consists of several scenarios that differ in tactical situation, terrain and quality and numbers of enemy opposition. Those scenarios are designed to showcase various stages of the game and combat situations you may encounter in the finished game. In each scenario you'll have a set number of Battle Brothers which you can equip with a range of early medieval weaponry and armor to suit your tactical approach. The way you equip your Battle Brothers will to a large part determine the tactical options at your disposal. Not every weapon is suited against every type of enemy or situation, and neither is heavy armor always the best choice. You should experiment with different combinations to find strategies that work well.
The layout of the individual scenarios will be randomly generated to different degrees, as will the equipment of some of your enemies. You shall find that some of them can play out very differently from one playthrough to another. The demo will include the following scenarios:
Combat Basics – A simple scenario to try out the basics of melee combat. Easy.

Swipe – A scenario containing few and easy opponents on a map with lots of terrain features blocking sight. Well suited to get used to lines of sight, fog of war and ranged combat. Easy.

Early Game Combat –  A scenario simulating a possible early game encounter in enemy composition and equipment available. Moderate difficulty.

Defend the Hill – A scenario in which you have to survive against overwhelming odds while positioned on top of a hill. Well suited to learn about height advantage and to test sight and usability issues with height levels. Difficult.

Advanced Combat – A mixed scenario combining all the above elements and simulating more closely what an encounter might feel like at mid-game and later. Terrain can vary greatly between playthroughs, as can the enemies you encounter to some extent. Difficult.
The goal in every demo scenario is to kill all opposition without them killing your Battle Brothers first.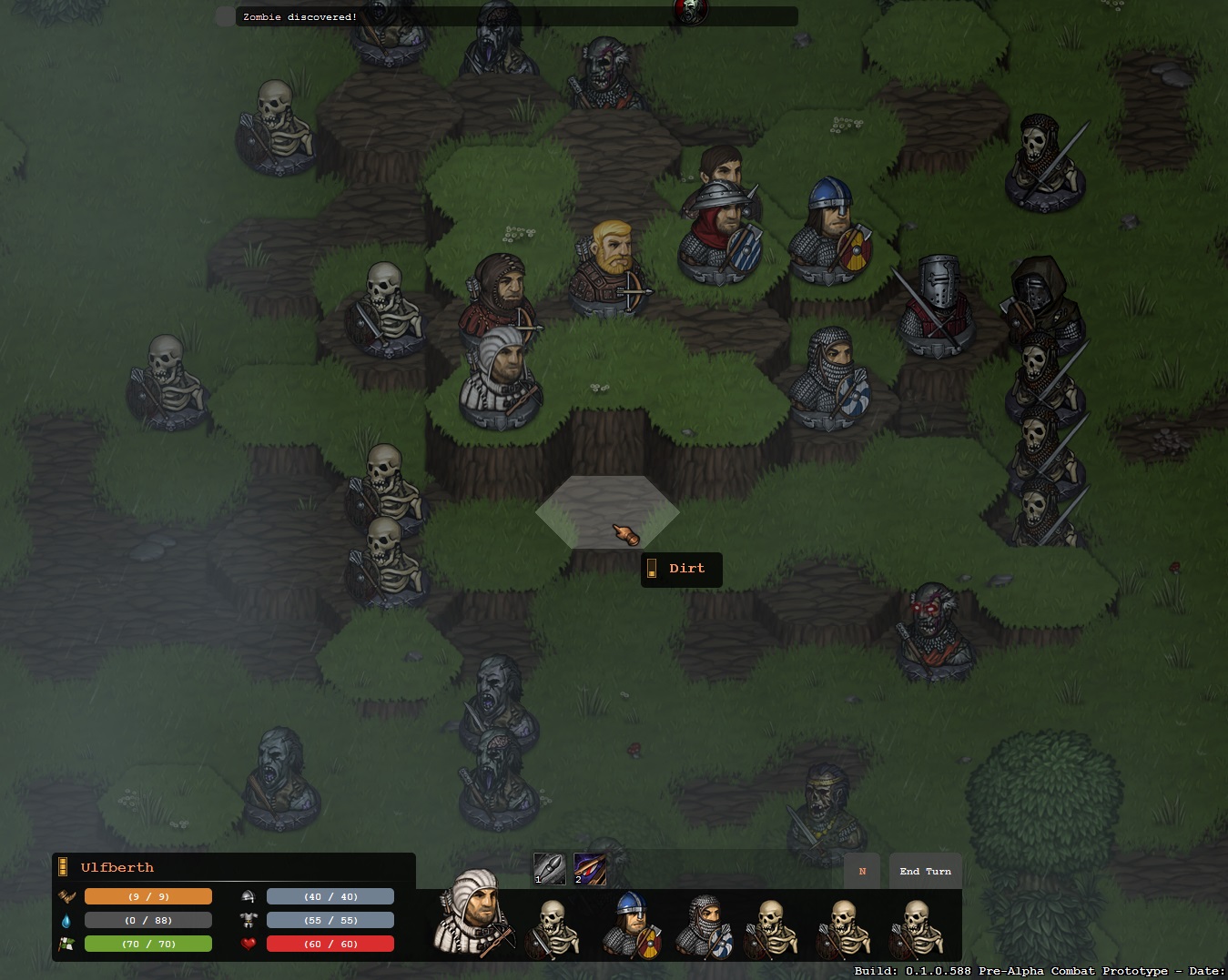 What will not be included?
The demo will be Windows PC only. While the final game will also be available for Mac OSX and Linux, the demo will not for the time being.
The demo will not include any strategic and management aspects of the game, accessible from the worldmap, but will be focused solely on the combat part of the game. As such, it only represents part of what the final game will be about.
Finally, the demo does not represent the amount of content that the final game will have. Only some of the weapons, armor and skills that will be available in the final game are included. Likewise, the demo will only include a limited variety of terrain types and enemy diversity. The final game will feature sound effects for every action and a variety of atmospheric music, but the demo will be quite limited in this regard.
Why release a Combat Demo?
We are now at a point in development where we want to put our game to the test and get people from the outside to play it and give us feedback. Feedback on technical issues, aesthetics, usability, mechanics, gameplay, AI and anything else. Perhaps we can even get some new ideas for the game that we haven't thought about yet.
In addition, we want to get more people to know about our project, and we think an open demo is a good way to reach a bigger audience so that everyone can check out the game for themselves and discuss how they want it to shape up. We want to engage with you in the development of this game!
How do I get it and when will it be released?
The demo will be released within the next couple of weeks, the exact time depending on our progress. It will be downloadable from our website at www.battlebrothersgame.com/downloads and also on our indieDB page at http://www.indiedb.com/games/battle-brothers.
If you don't want to miss it, follow us on our social media channels to get all the latest news. We want as many people out there to give us some feedback so be a Bro and spread the word about our project and the upcoming Pre-Alpha Combat Demo!