Polishing the 'Blazing Deserts' DLC continues as we take a look at another potpourri of smaller additions and quality of life improvements coming with the release on August 13. You can already wishlist the DLC on Steam and GOG. Let's take a look!
Exploration Mode
A new and entirely optional way to play your campaign is with a map that is unexplored in the beginning, save for your immediate surroundings. You'll have to discover the lay of the land and uncover every settlement yourself, as everything is hidden by thick fog covering the map at the start.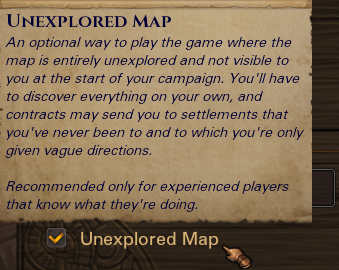 If you're into exploration, this could make for an interesting and fresh campaign. It's only recommended for experienced players that know what they're doing, however, as exploring the map as you go adds some difficulty to keeping your men alive and well, and contracts may send you to settlements that you've never been to and that you have to find first.
Terrain
As you probably know by now, the 'Blazing Deserts' DLC adds several new types of terrain. But if you've ever wondered from afar what terrain a particular enemy camp sits on, fret no more. The game will now tell you in the tooltip of camps what terrain your men would be fighting on, without having to first engage the camp. That's even more important as the combination of terrain and fortifications is about to change the dynamic of battles thanks to objects like palisades making it onto combat maps!
Events
Events are the spice of life, and the 'Blazing Deserts' DLC adds plenty of new ones both for your travels south and the interaction between characters. Observe a fire juggler in the city states, discuss astronomy with southern scholars, find cultists of Davkul doing something sinister in the desert, and have your men get sunburn. All events are illustrated with new art like that below.
Achievements
Can't do a new DLC without new achievements! A total of (currently) 12 new achievements to unlock await the completionists of you, as you can challenge yourself with defeating powerful new opponents, doing trick shots with a Handgonne, winning arena bouts, and more. Can you guess what other achievements there are based on the icons?
Supporter Edition
As with our previous DLCs, we're again also offering a Supporter Edition for those of you who want to support us above and beyond in working on Battle Brothers. As a thank you, you'll be given a special player banner that appropriately reflects the wealth, craftsmanship and culture of the south and its people!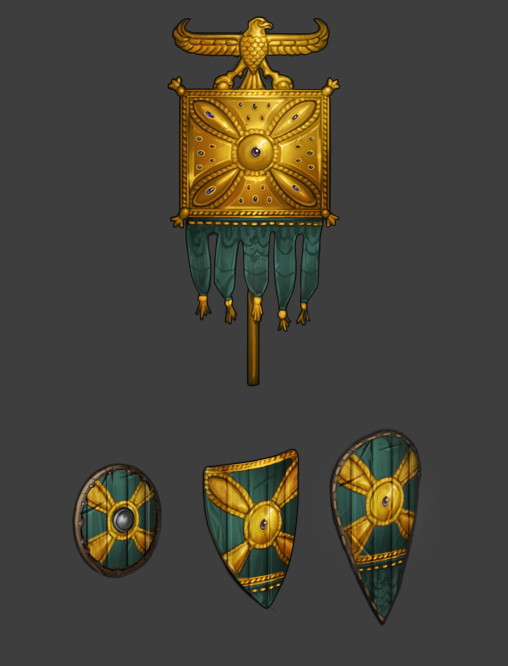 You can wishlist the Blazing Deserts Supporter Edition here on Steam.