The strategic worldmap in Battle Brothers is filled with opportunities for adventure, battles and interaction. One of these opportunities are locations that you can explore, destroy and plunder or trade with. In this week's developer's blog we want to present you a couple of these locations.
On resources
Before getting into the midst of things a quick word on how locations work. Each location has its own resources that it uses to "buy" various parties with that each have their own agenda, AI, combat strength and troop composition. These parties will then venture out to perform various tasks. Most of these activities have the ultimate goal of increasing the location's resources so that it can buy even stronger parties in the future.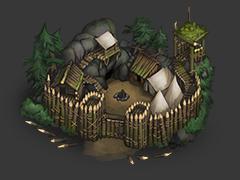 Hideout
The hideout is an encampment hidden in rough terrain like dark woods or steep hills in a safe distance from the next stronghold or watchtower. The hideout usually harbors a flock of bandits or other scoundrels that use it as a base of operations to plunder trade routes or raid unprotected villages.
It will first send out several small groups of scouts that search the area for valuable targets like trade caravans or small villages that do not have a lot of defenses. Once they have observed and estimated a target they return to the hideout to inform their fellow bandits. The hideout then uses its resources to create a larger raiding party that travels out to attack the reported target. If the attack is successfull, the bandits plunder everything they can get their hands on and haul it back to the hideout, in turn increasing the hideout's resources.
If the player, or any other faction for that matter, manages to intercept the scouts before they get back to deliver their information, the hideout won't be able send out raiding parties as they don't know where to send them.
If the hideout's activities go unchecked for a while, their raiding parties will grow with their available resources and their parties become bigger and bigger until then can evenetually even threaten larger towns or watchtowers.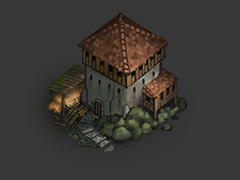 Watchtower
Watchtowers are used to guard the long and lonesome roads that trade caravans use to get their wares from one market to the next. As these trade caravans are easy prey for bandits and worse, the watchtowers aim to prevent any attacks on them.
These towers are usually placed along the road network and mostly close to road intersections. They use their resources to create patrols that move along the roads up to the next market and scout for bandits and their hideouts. The resources are not gathered by the tower itself, but the tower is usually supplied by the much bigger strongholds that are described below.
The patrols will of course hunt down any evil-doers that they come by but in case they are not strong enough to deal with the threat, the watchtower will be able to spawn a bigger assault party and even call in help from a stronghold that houses a lot more troops.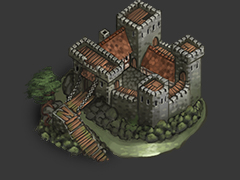 Stronghold

The stronghold is a big military fortress that accomodates a large amount of professional soldiers and provides security to a large region. The stronghold will create patrols of its own like a watchtower but it will also supply the much smaller watchtowers in the vicinity via supply trecks. Of course these supply trecks can be raided just like trade caravans.
What is more, the stronghold does have the means to fight bigger threats by sending out a dedicated assault party of trained footmen and knights. However, the soldiers of the stronghold are not numerous enough to guard any caravan or village at all times. So there will be many opportunities for the player to help out civilians in distress even when close to a stronghold.
As a stronghold usually has a smithy dedicated to forging and repairing all kinds of weapons and armor, the player will have the opportunity to stack up on military equipment. The amount and grade of equipment will be different for each stronghold depending on its location and resource stockpile.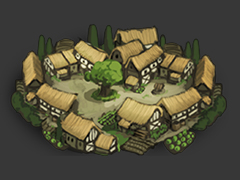 Villages and Towns
We already talked a little about the human settlements in previous blog posts. These play a central role as in the strategy part of the game as you need them to hire new men, buy equipment and do much more.
These settlements create trade caravans with local goods and send them to other towns markets to generate trade revenue for both locations. Because these caravans are usually not very well guarded, bandits will try hard to ambush and plunder them.
If the bandits, or any other attacking faction, attempt to attack a settlement itself, it will hastily gather a militia troop to fend of the aggressors. However, this needs some time and if the attackers are fast enough or are seen too late, for example by attacking at night, the settlement will be completely undefended. The strength of the militia depends on the resources available.