As every week, we have some sweet new stuff for you. We went back to take a look at all the armor in the game and reworked all helmet appearances and armor values. What is more, we added some missing body armors to get a nice progression of armor values into the game. To round things up, a banner generator is in the works that will allow you to create your very own custom banner when starting a new game of Battle Brothers.
Lets explore this in more detail.
New Body Armors
We want to have a smooth progression of both the protection that armor offers, as well as their price and how rare they are in the game. Until recently, there were some big jumps in armor values – for example there was little inbetween a simple mail shirt and the heavy coat of plates. With some new armor added, we filled these gaps and now have a great and steady progression.
The heavier armors are quite expensive and hard to come by, so you'll likely only be able to afford them later in the game. They're also quite rare so that you'll never find them on offer in great quantities and only in rich cities and strongholds to begin with.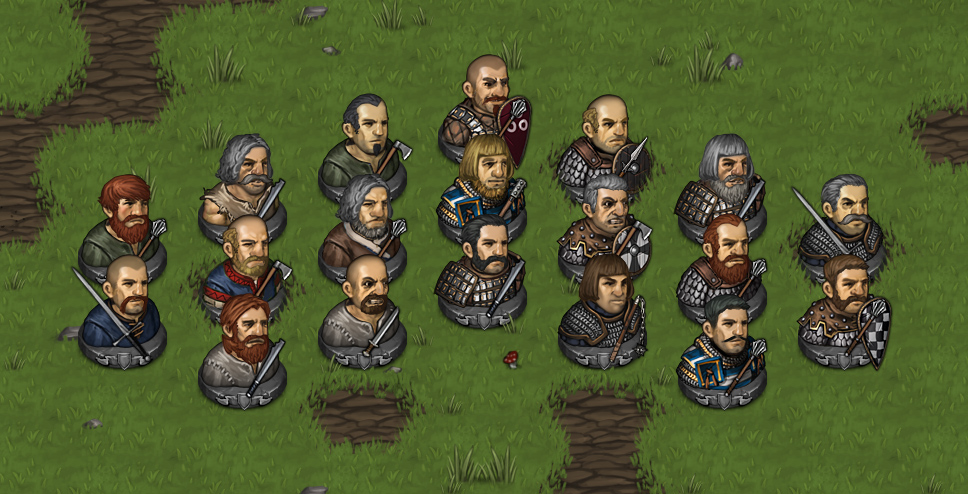 The protection from armor is crucial though, as a Battle Brother with little or no armor may be struck down with a single lucky hit. Before you know it you'll see heads flying about left and right if you don't get your guys some protection. Just take a look at our last gameplay video showcasing a tough and gory fight against orcs: Orc Line Battle Video.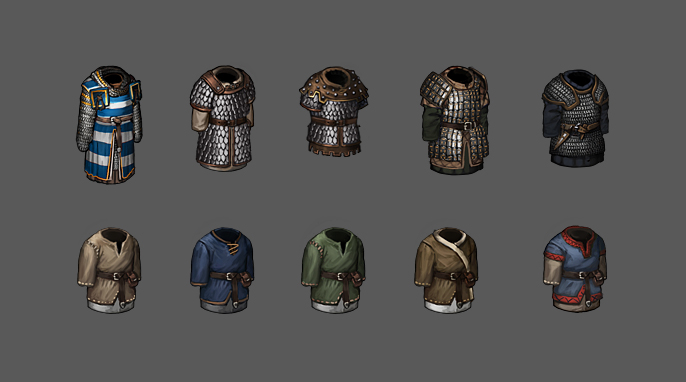 The new armors from top left to top right are
Heraldic Coat of Plates: Two layers of leather with heavy metal plates rivetted inbetween on top of a full mail shirt.
Coat of Scales: A heavy armor made of overlapping metal scales covering most of the body.
Scale Armor: A body vest with overlapping scales.
Heavy Lamellar Harness: A lamellar armor that covers most parts of the body with thick, overlapping metal plates for maximum protection.
Mail Shirt: A mail shirt with shoulder guards providing excellent protection against most weapons.
On the bottom row we have a variety of linen tunics to get some more flavor into that early game when you're hiring farmhands, lumberjacks and fishermen that don't own any armor of their own.
Reworked Helmets
Until now all helmet variations within the same category were just visual flavor. This led to the odd situation where a helmet with a complete mail coif underneath gave the same amount of armor points as a helmet with just a piece of cloth underneath.
To remedy this we split all visual variations into items of their own and gave them individual levels of armor points, malus to maximum fatigue and to sight range. This way we now have a ton of unique helmets and you'll be able to instantly recognize which helmet will grant more or less protection or inhibit your Battle Brothers' field of view. What you see is what you get, basically.

We're happy now with the variety of armors and helmets in the game and feel that they're ready for our upcoming Early Access release. For the final game there'll also be unique legendary items that come with their very own visuals, name, background story and sometimes even magical properties. They'll be very hard to get and we'll do a dedicated article on them in time.
Custom Banner Creation
When starting out with your brand new mercenary company you'll get the opportunity not just to name it, but also to create a custom banner for it. Just like the player, all locations – villages, watchtowers or orc camps – will have their own banner, as will the parties that originate from there. This way you can quickly identify a party's affilliance and know where they come from.
The banners will be composed of a banner shape, a pattern, a main emblem and additional secondary emblem. You'll also be able to choose from a variety of colors, of course. These are just some possible color combinations: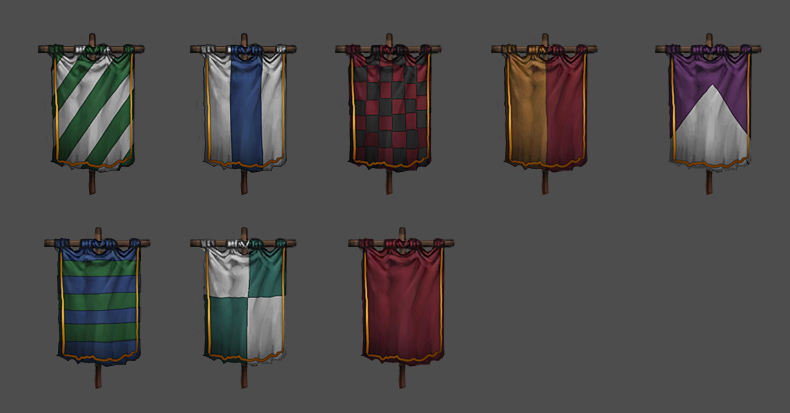 There will be a variety of banner shapes to choose from.

Here are some examples we created to show the possibilities of the banner generator with included main emblem and secondary emblem. Note that these are still in development and not implemented in the game yet.