Over the last week we've been focusing on filling up missing content, playtesting and balancing the game. Most changes and additions are rather small by themselves but the game as a whole is making big progress as a whole. Furthermore we have the fourth and final Let's Play episode of our little series for you!
Background and Trait Icons
Backgrounds and traits have been in the game for quite a while using placeholder icons. We just now started replacing all those placeholders with actual icons.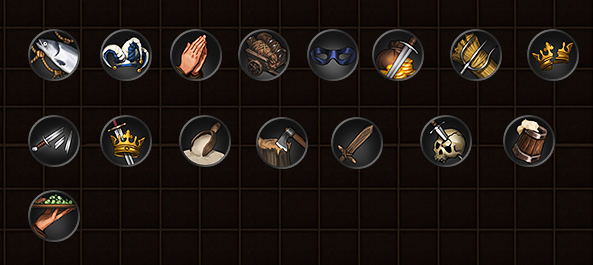 On the image above you can see the first batch of icons for the character backgrounds. Among them you can find 'the farmhand', 'the fisherman', 'the lumberjack', 'the disowned noble' and many more. As a quick reminder, character backgrounds are sort of 'professions' of the characters that you can hire and tell you what they have been doing in their life before becoming a mercenary. These backgrounds can have positive and negative effects on the character stats and are therefore important when deciding who to hire. Adding these is not really essential for gameplay but it does add a lot of atmosphere and also makes deciding which recruit to hire a bit easier.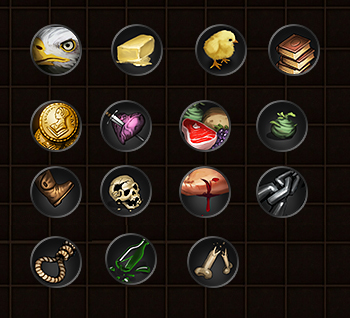 Here are some trait icons to give you an idea on how they'll look like. You can find the icons for 'eagle-eyed', 'bright', 'bleeder' and many more. Traits are randomly assigned to characters depending on their backgrounds and give small changes to character stats, and add a lot of flavor and personality to the characters you are hiring. They make them just that more individual and special.
Bridges and Fords
No more crossing rivers on magical roads! From now on we have decent wooden bridges to cross rivers on dry feet as long as you stick to a road. Out in the wild you will find a ford across a river from time to time where you can cross it.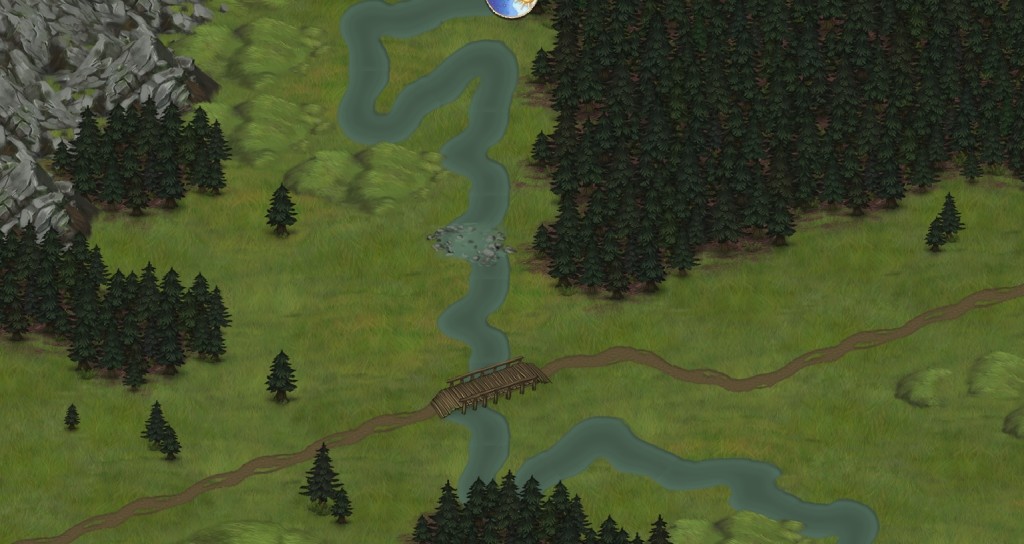 Just like the icons these are not essential for gameplay but they do add a bit to the look and feel of the game and are another step towards our Early Access launch. As the layout of roads and rivers is procedurally generated, there are countless assets required for them. Completing all the possible directions and combinations for these elements was a straining task.
Caravans in Tactical Combat
Trading caravans now show up on tactical combat maps. Thus if a caravan gets ambushed, you can now actually rush to its aid (and save that poor donkey from getting slain!). These assets also allow us to implement a new 'escort caravan' contract where you have to ensure the save arrival of a caravan, which adds a new tactical dimension to battles as you're defending an objective.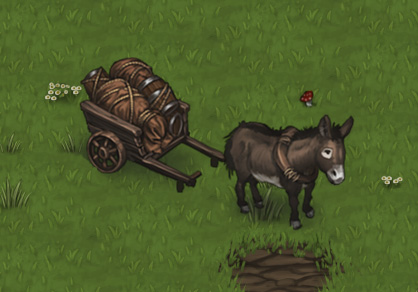 Caravans aren't entirely helpless on their own. In combat, they are protected by Caravan Hands and, if they're large enough, Caravan Guards, that will take defensive position around the carts and do their best to defend them. They're not that great at fighting, and their morale can be broken, but they can hold their own against easier opponents and may buy you some time. Also, their survival isn't essential – making sure the carts arrive is the important thing. In order to not make you go mad, we've also improved the defensive AI, so that Caravan Guards can position themselves in a way that intercepts arrows and bolts from hitting the donkey. They'll also use their shields to knock attackers away from them. Other opponents can make use of that improvement as well, of course – Necromancers, too, are now a bit better protected by their undead minions.
Let's Play Episode 4
Here is the final episode of our short Let's Play series. Although there is still a lot left to discover and more adventures to seek out, we have to make this the last episode for now. There have been a lot of changes on the game since we started the series, and many can not be shown in the videos as they would require the start of a new campaign. Also, it's getting difficult to keep the savegame compatible with our current build. However, there is a good chance we'll start a new series not long from now which will show you more and different things about the game!
Don't forget to comment on the video and subscribe to our Youtube channel.