The 'Beasts & Exploration' DLC is set to release on the 29th of this month with a bunch of cool features that you can learn about here. That's great, but there's actually even more coming than covered by this feature list. Let's take a look at some smaller things that come with the DLC and which we haven't talked about yet.
The Beast Slayer
There's a new character background in town: The Beast Slayer. Experienced in both melee and ranged combat against beastly opponents and monstrous adversaries, the beast slayer is a versatile background similar to the sellsword, but more affordable. Of course, he comes with his own events and interactions with other backgrounds, and some expert knowledge on beasts and their lore to share with you.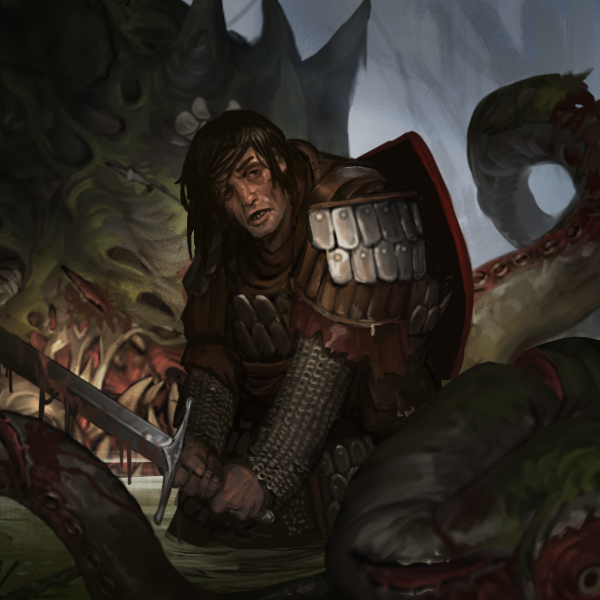 Wage Changes
There's several changes incoming on how wages for characters work, so let's break them down.
First off, the base wage for a couple of backgrounds has been adjusted to be more in line with their actual worth as defined by how often they're picked by players. In addition, every individual character now has a certain idea on how much they want to get paid – there's a small random factor on the daily wage demands of all characters, and so you'll find cheaper and more expensive recruits also within the same background, and even if they don't have the 'Greedy' trait.
Finally, the wage progression has changed. While previously you paid 2 additional crowns per character level, you'll now pay a cumulative 10% of a character's base wage for every level after the first and until the 11th, and then 5% of a character's base wage for every level afterwards. In effect, there's less wage pressure in the beginning, which gives you more leeway to actually explore the world earlier and find all those new beasts and locations. Low tier backgrounds have also become cheaper to employ in the long term, but high tier backgrounds have become significantly more expensive to keep around if they reach veteran levels, which gives you more of a reason to diversify your company composition in long campaigns.
New Named Weapons
As you've previously learned, the DLC will introduce a bunch of new weapons. People have been asking about whether there'll be named variants of those weapons as well – and the answer is yes, of course. Take a look!
New Armor
It's not just new weapons, it's also stylish new armor, all of which can be further customized with the new armor attachment system. We're filling some gaps in the armor progression, and we're also introducing some high tier light armor as part of a larger effort to make light and medium armor more of a viable choice for some character builds.

Join us again next week to learn about even more changes and additions of the upcoming DLC and the accompanying free update to Battle Brothers!