While we're busy working on the new worldmap, there's two new features we want to talk to you about today: distinct regions on the worldmap that have names of their own, and better worldmap exploration through the use of Fog of War. Let's take a look!
Region Labels
The world of Battle Brothers is procedurally generated and not handcrafted like in many other games. This has the great advantage of having a different world for you to play in every time you start a new campaign, adding a lot to replayability. It also comes with some drawbacks, however. A procedurally generated world can feel kind of random, and lack a feeling of history and purpose to it.
We're doing several things to address this, and one of them is introducing the concept of different regions to the game. Regions are areas of one particular terrain, for example a mountain ridge or large open plains. The larger regions have been named by the inhabitants of the world according to their history and beliefs, and we display these names on the worldmap much like they'd be displayed on a map. The names used in the screenshot are largely placeholders still, but the intent is to have the names convey a certain character and sometimes history attached to them. With the world no longer just a collection of nameless interchangeable mountains and forests, we'll also refer to regions in both contracts and events for helpful directions and to increase immersion in a world that is new with every campaign and yet should feel rich and lived in.
Worldmap Exploration
Another idea that's been in the drawer for a long time and that we're now implementing is to improve the experience of exploring the worldmap by uncovering what is initially covered by fog. Battle Brothers is a game with a lot of traveling, exploration and visiting new areas and regions. A hidden worldmap that is gradually uncovered by the player should add to the sense of exploration and adventure. On the practical side of things, it also helps to see at a glance where you've already been and where to explore next.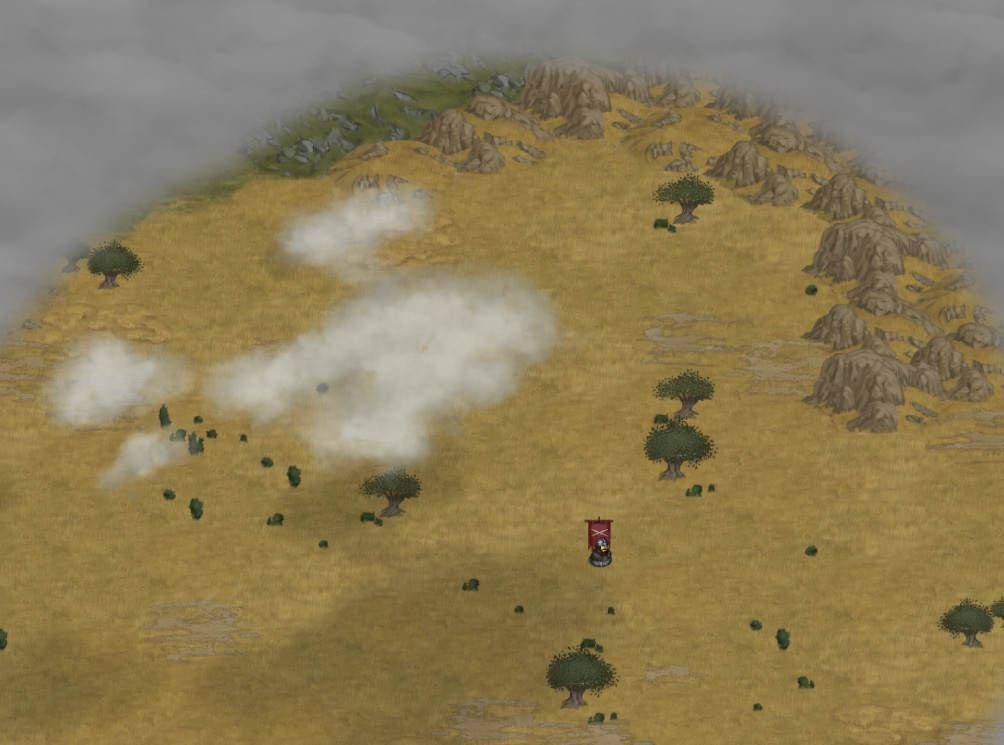 Initially, only the area around human settlements and the roads between them is uncovered. The wild, home to Goblins, Orcs and worse is for you to explore.What you can't see from the screenshot is that the fog is actually animated in the game and looks quite cool.