Time is flying by as the settlement screens get finished and we move on to work on the actual map part of the worldmap. Let's take a closer look!
What's been happening?
The settlement screens are done for now, so we're moving on to polish the worldmap assets. Just like the settlement screens, those, too, had initially been done with placeholder images and are now receiving their final look. Below you can see how the central buildings of settlements, the same ones you previously saw on the settlement screens, look on the worldmap now.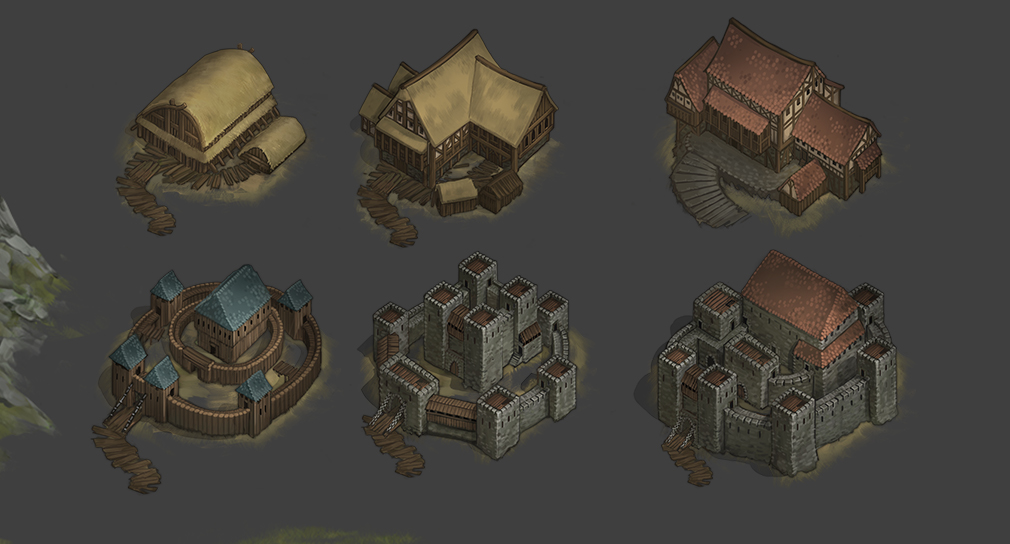 At the same time we're implementing more faction mechanics and contracts. All factions in the world of Battle Brothers now have a number of characters leading them – family members in the case of noble houses, and influential citizens in the case of settlements. Although those characters don't have the depth as in a true rpg, we do feel that giving faces to the factions really helps to have them come alive.
As factions give out contracts, you'll be dealing with individual characters that negotiate with you and to whom you report after all is said and done. You'll potentially be working with them on several contracts, and they can also become part of contracts themselves. You may be escorting them, you may fight alongside them on the field of battle, or you may even be hired to kill them after having worked with them for some time – in which case they'll permanently depart from this world, just like your conscience.
The above shows part of the new 'Factions & Relations' screen where you can at any time get an overview of the factions in the game, their leading characters, and your relation to them. Factions, too, come with a bit of procedurally generated backstory depending on their traits and values, in order to give you an idea of who it is you're dealing with. If we find the time, we'll also add some more clothes and hats suitable for nobility.