A centerpiece of how individual settlements will feel distinct on the new worldmap of Battle Brothers is different buildings with a unique gameplay function. This week we'll be taking a closer look at some specialized shops that are coming with the update in February.
Specialized Shops
If you've watched our Update Preview Video you'll already know that every settlement now comes with a marketplace. The marketplace works as an amalgamation of what a variety of smaller traders peddle throughout the settlement. That is, all kinds of different goods and equipment that are regionally available. Apart from supplies, such as different kinds of food, this may also include weapons, armor and shields. However, the selection on the marketplace is limited to what those traders bought themselves and are now reselling, the quality is limited to what is commonly available to and affordable by the people living there, and the equipment may have been used before and look the part. You may even find the occasional great deal here, but to outfit your growing mercenary company you'll eventually want to look elsewhere.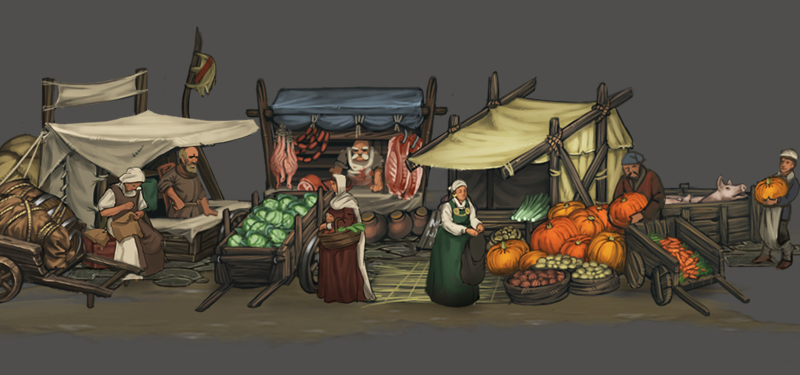 For those who have the crowns, there are specialized traders available for weapons and armor which have a much larger selection of quality equipment, brand-new but also quite a bit more expensive. These traders are the weaponsmith, the armorsmith and the fletcher. You are more likely to find these in the settlements surrounding fortifications than small fishing villages, and while the smithies are more likely to be found in settlements with good access to metal, you'll find the fletcher in settlements with good access to wood.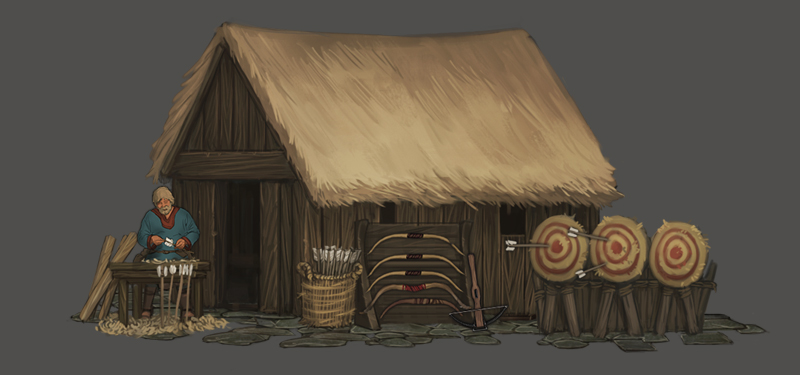 Whereas the weaponsmith will have a large variety of melee weapons on offer, with a few throwing weapons thrown in, the fletcher specializes in ranged weaponry. The selection of ranged weapons in the game is still limited at this time, of course, but we'll eventually add more of them that will then make their way to the fletcher as well. To make browsing specialized shops more interesting and also worth it later in the game, you'll now be able to sometimes find unique named weapons on offer – for kingly prices, of course.
An even more specialized shop than those three is the kennel. You can pick up a wardog or two all over the land, but if your tactics happen to rely heavily on man's best friend, you'll want to head out to go to the source: one of only a few kennels across the land where the best dogs of war are bred and sold in large numbers. Kennels are usually part of smaller fortifications, so they're worth visiting for reasons different than large castles. Dogs and their handler are yet to be added to the image you see above.
There's a bunch more buildings coming, including one that will allow you to customize the appearance of your Battle Brothers to your liking. Return here, as we'll be revealing them in future progress updates!