Even though the Corona situation has been and still is negatively affecting our schedule, we're making steady progress every week. There are signs of normalcy on the horizon regarding the reopening of schools and daycare, so here's hoping our productivity will also soon normalize again. In the meantime, we'll take another look at several smaller additions coming with the next update. Read on!
A New Banner
As a thank you for your continued patience, and because having a guiding light in dark times seems fitting, we'll include a new player banner in the free 1.4 update. Hurray.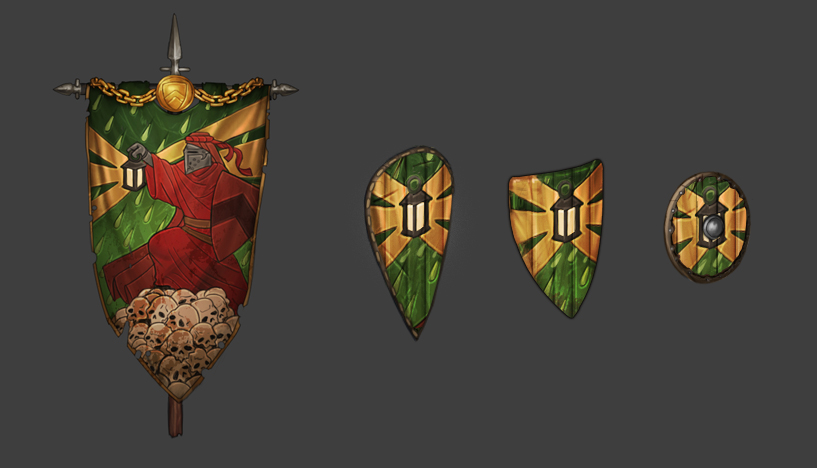 More Champions
The 'Blazing Deserts' DLC will introduce a variety of new human opponents. Several of these you can also face as more dangerous champions, like famed gladiators, nomad princes and southern officers of great renown. The screenshot below showcases some of the new named gear that these guys may carry.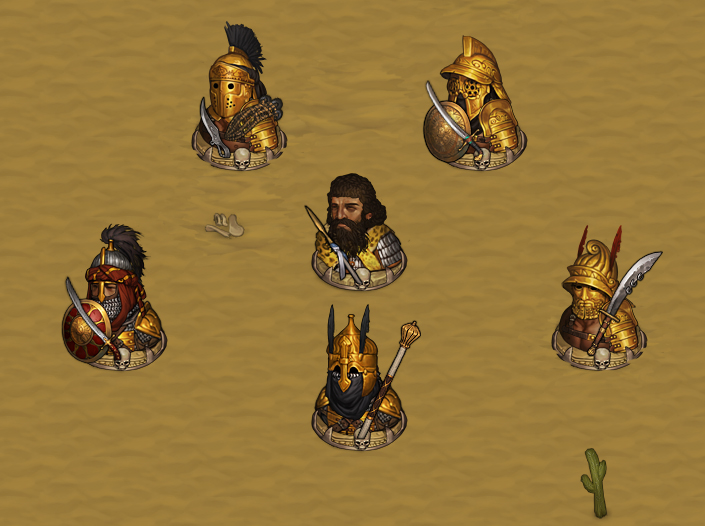 We've also made more existing opponents into champions. For example, if you ever wanted to fight a particularly powerful necromancer with an illustrious name like 'The Puppeteer' or 'The King of Worms' who is carrying unique loot, you'll soon be able to. And if you hire the Bounty Hunter as part of your retinue of non-combat followers, you can earn additional bounties for hunting down champions such as these, and find them more easily and more frequently.
New Treasure Items
In order to make fighting beasts, and particularly those of the powerful and dangerous variety, more rewarding, we're introducing additional new treasure items. These are not for crafting, but only for selling. For example, a Hexe may now leave you a valuable jade brooch as you hasten her departure from this world, while an Unhold may have crushed and mashed any valuables that they found into a handy twisted ball, which you can loot and sell.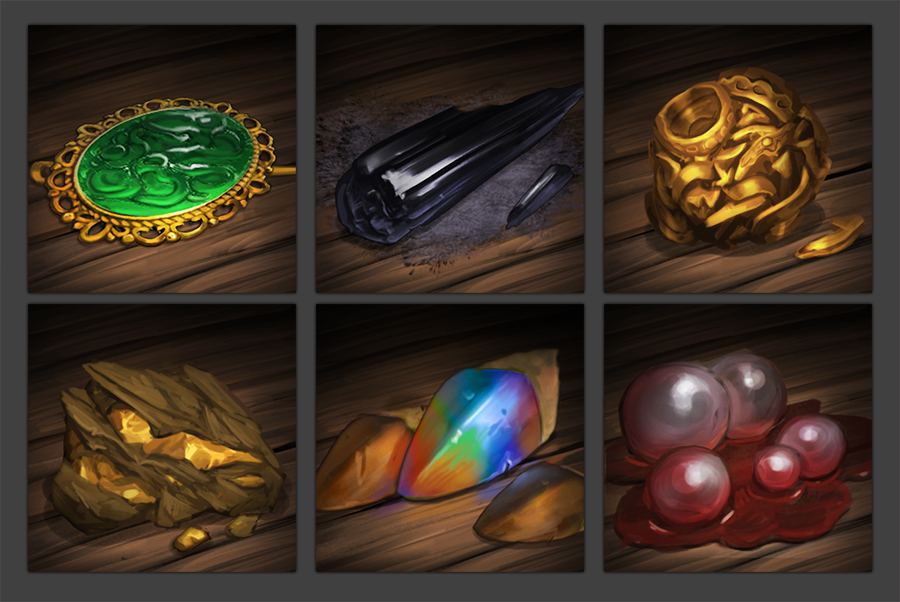 New Settlement Situations
The southern city states come with a selection of their own settlement situations. For example, a city may hold slave auctions, which significantly increases the availability of slaves. Sand storms may temporarily limit the availability of goods transported by caravans, and bread and games will mean lots of activity in the local arena and increased availability of gladiators for hire. Other situations, like slave revolts, are directly linked to contracts, and completing them will resolve the situation for the city and, in this case, make slaves available again for purchase.

Northern settlements also get a few new situations, mostly to do with trade. A ceremonial season in a northern town with a temple means increased prices for incense and thus lucrative trading opportunities. Finally, tavern rumors now also include hints of settlement situations of nearby villages and towns, and less flavor responses, so that you get a better idea of trading, recruiting and work opportunities nearby. For example, if you're set on hunting Unholds to wear their furs as cloaks, tavern rumors can now point you to villages where the giant creatures have been sighted.